Category Archives:
PC
General Grievous is Arriving to Star Wars™ Battlefront™ II on October 30!
Get a closer look at the feared Separatist Supreme Commander and his playstyle in Star Wars™ Battlefront™ II.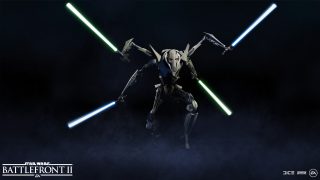 General Grievous* – Lethal droid commander. Brilliant strategist. Feared Jedi hunter. He's earned many monikers, and on October 30, the General Grievous Update** will bring the dreaded commander's mercilessness to Star Wars™ Battlefront™ II.
Below, we cover the essentials of our most recent addition to the heroes and villains roster. To get into the nuts and bolts of the Separatist Supreme Commander, head over to our latest Community Transmission. And, if you want to get a rundown of how a hero character is developed in Star Wars Battlefront II, make sure to read our insider scoop on the subject.
The General Grievous Update also introduces a couple of tweaks to the game. Learn more about the reworked Hero Health Star Cards and time-limited Clone Wars-era playlists for Hero Showdown and Heroes vs. Villains.
Becoming One of the Galaxy's Most Notorious Villains……..